Robin Hood Tax - Global Day of Action

national | anti-capitalism | feature

Monday June 20, 2011 21:48

by Robin Hood

info at rht-ireland dot org
Ireland´s Email Campaign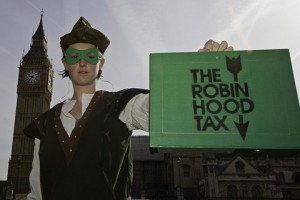 The Robin Hood Tax will stage a global day of action on June 22nd. As a fledgling group, Robin Hood Tax (Ireland) will initiate an email campaign aimed at our TDs asking them to support a Robin Hood Tax in Ireland.
Related Links:
Robin Hood Tax (Global Site) | Robin Hood Tax (Ireland)

Robin Hood Tax (Ireland) needs helpers, supporters, researchers, volunteers, basically everything - GET INVOLVED

Facebook:
Robin Hood Tax: Facebook.com/robinhoodtax
Robin Hood Tax (Ireland): Facebook.com/robinhoodtaxireland

Twitter:
Robin Hood Tax: @robinhood
Robin Hood Tax (Ireland): @rht_ireland
A Robin Hood Tax, basically, means a tiny tax/levy on (large/institutional/business (not personal)) financial transactions such as stocks and shares and currency speculation. The proposed tax is about 0.05% or 5 cents on every €100, a very affordable amount for people and organisations who make these kinds of transactions. The money collected can then be used to fight poverty and climate change.

Below is a sample letter that Robin Hood Tax (Ireland) would like you to send to your TDs on June 22nd asking them to pledge their support. The easiest way to do this is by using www.contact.ie.

Parliamentarian's Call for the Financial Transaction Tax

In advance of the meeting of European Leaders at their next Council on 23/24 June, please join parliamentarians from across the world to show your support for the Financial Transaction Tax – an idea whose time has surely come! This initiative follows from 1,000 economists from across the globe, who recently pledged their support for the Financial Transaction Tax. If you agree with the declaration below, please press the link: http://www.surveymonkey.com/s/3CPJP8Zand fill in your details, it will take just one minute. The deadline is Monday 20 June. Thank you for taking part in this most important of initiatives, to join the call to leaders throughout the world: do not delay, the time for the Financial Transaction Tax is now!

Parliamentarian's Declaration for the Financial Transaction Tax (FTT)

WE, THE UNDERSIGNED, PARLIAMENTARIANS FROM AROUND THE WORLD, DECLARE THAT:

· We are committed to the implementation of taxes on financial transactions, such as shares, bonds, foreign exchange and derivatives, in order to raise substantial additional finance to combat poverty, climate change and health challenges and protect public services and jobs; and to improve the stability of the world's financial system.

· In the light of the recent economic crisis caused by the financial sector and the immense costs to citizens in both the developed and developing world, it is time for the sector responsible to make a far greater contribution to help safeguard livelihoods and save lives.

· We urge Governments both in Europe, where some states such as France and Germany are already taking a lead, and in every country around the world, to take all steps necessary for an early introduction of FTTs, noting that progress by a coalition of willing states, or at the Euro-zone or EU level, is urgently required and entirely feasible.

For further info: