Fair Hotels Video

national | consumer issues | feature

Thursday November 24, 2011 11:12

by Paul Gavan - SIPTU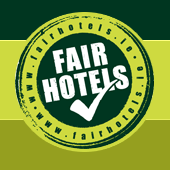 Fair Hotels is an initiative of hotel workers employed in Fair Hotels throughout Ireland and trade union representatives. Hotels listed on www.fairhotels.ie were invited to participate in the Fair Hotels campaign by their own staff and their staffs' representatives. Each of the hotels listed on www.fairhotels.ie has agreed to participate. Our objective is to support and promote quality employment in the hotel industry in Ireland.
Related Links:
Fair Hotels Website | Siptu Fair Hotels Iniative (from Cedar Lounge Revolution) | New Ethical Template for Quality Jobs (from Mandate.ie)

Who's Endorsing Fair Hotels:
IUF - Uniting Food, Farm and Hotel Workers World-Wide | Irish Congress of Trade Unions | Trade Union Congress | Fairtrade Mark Ireland | National Women's Council of Ireland | Consumers Association of Ireland | Lynch Hotels | Irish Federation of University Teachers | Migrant Rights Centre Ireland | Immigrant Council of Ireland | Community Platform | Sport Against Racism Ireland | Hotel Solutions
Why Fair Hotels in Ireland
What is a Fair Hotel?
Fair Hotels are hotels that treat their staff fairly. Fair Hotels understand that the hospitality industry is a people industry and that in order to attract and retain a skilled and committed workforce, staff must know that their work is valued.
Fair Hotels pay a fair day's pay for a fair day's work. They accept that hotel workers deserve to be paid a fair wage on which to support themselves and their families. Fair Hotels take their responsibilities as employers seriously. They respect the fundamental human right of workers to a voice at work. They engage in collective bargaining with staff.
Fair Hotels accept that in order for a hotel to run efficiently and safely, workers need to have a voice in minimising potential risks to their health from accidents and injuries. Fair Hotels know that client satisfaction depends on excellent customer service. They know that workers who are treated right will go the extra mile to ensure that customers are treated right.
Fair Hotels realise that hotel workers value quality jobs - jobs that are worth protecting. Both collectively and individually, workers in Fair Hotels strive to protect their livelihoods by securing the viability of their hotel.
Caption: Make the Right Choice-Chose a Fair Hotel!