Clare - Event Notice
Thursday January 01 1970
Protest Rally at Shannon - Against the U.S. Military Presence, In Solidarity with Margaretta D'Arcy

clare | anti-war / imperialism | event notice

Wednesday February 05, 2014 23:17

by shannon-watch
A large peace demonstration will take place in Shannon on Sunday February 9th from 2pm to 3pm. The demonstration is being held in opposition to the U.S. military use of the airport, and in solidarity with imprisoned peace activist Margaretta D'Arcy.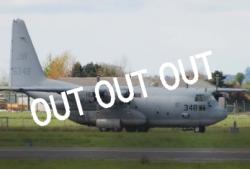 Margaretta has taken a stand against the ongoing participation of Shannon Airport in war. She normally attends monthly peace vigils at Shannon, but she has now been locked up by the State as a result of her principled stand against the unimpeded movement of U.S. military aircraft and personnel through Shannon.

Shannonwatch is calling on people all over Ireland to show their support for Margaretta and her opposition to Irish complicity in war, by coming to Shannon on Sunday February 9th.

A 2013 Red C poll commissioned by the Peace & Neutrality Alliance showed that 78% of Irish people support a policy of Irish neutrality. Despite this, and despite a commitment in the 2011 Programme for Government to "enforce the prohibition on the use of Irish airspace, airports and related facilities for purposes not in line with the dictates of international law", our current government refuses to end the US military use of Shannon Airport, or to investigate the landing of rendition planes there over several years.

On Sunday 9th February Irish people can send a strong message to the government: End Irish involvement in wars that continue to cause the loss of countless lives, worsening humanitarian crises and global insecurity.

Travel Arrangements

For people in Dublin, the Peace and Neutrality Alliance (PANA) are arranging a bus to Shannon for the demonstration, leaving from Liberty Hall at 10.00am. The booking deadline is Wednesday 5th of February at 5.00pm. Anyone who is interested can email info@pana.ie or phone 087 2611597.

For people in Galway, Galway Alliance Against War (GAAW) is also organising transport to Shannon. Those who are interested in traveling are asked to phone 087 9159787.

Anyone planning to organise transport or to provide lifts from other parts of the country should contact Shannonwatch on 087 8225087 so that others can be told about the arrangements.