Conservative estimate shows well over 150,000 march across Ireland for Right 2 Water.

national | bin tax / household tax / water tax | feature

Sunday November 02, 2014 00:07

by T
Massive turnout at local water charges protests exceeds expectations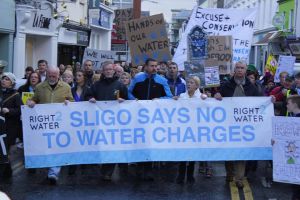 Over 100 separate local demonstrations took place today (Sat Nov 1st) against the Water Charges and for the Right 2 Water. Organisers estimate conservatively that over 150,000 were out on the streets today to send a message to this government that they won't accept paying for water twice and having it privatised later.

People realize that all the false promises and allowances will eventually be dropped and the long term result will be that a privatised water company will prey on the people with massive hikes in charges and big fat bonuses for themselves.

There were protests from Cork & Kerry to Wexford to Dublin to Limerick to Galway to Sligo to Donegal to Cavan to Dundalk and all over the Midlands. There has never been anything like it perhaps since the foundation of the state. The people are truly fed up and are determined and will not be abused by the political technocrats of big Capital that is robbing every social gain our forebears fought hard to get over the past century.
Related Links: Water Charge FAQ - your questions answered | Right2Water National Day of Local Protests - Sat Nov 1st | Right2Water National Protest against Water charges - Sat Oct 11th @ 2pm | No-one will be safe from water charges if we don't stand and fight | Why Irish Water Will Be Sold Off | The New Water Barons | Blockades of Water Meter installations in Cork and Dublin | The Irish water debacle: a timeline | http://www.Right2Water.ie/
Other Experiences: Resisting Water Privatisation in Bolivia and Ireland Bolivian Protesters end Water Privatization in La Paz, El Alto
For lots more pictures check each of the various campaign pages from around the country.
Campaign Facebook Pages: Carlow, facebook | Clare, Ennis facebook | Dublin, Blanchardstown, facebook | Dublin, Blanchardstown, facebook | Dublin, Ballyfermot facebook | Dublin, Blanchardstown facebook | Dublin, Dun Laoghaire, facebook | Dublin, Dundrum facebook | Dublin, Ringsend, facebook | Dublin, Tallaght facebook | Fingal, Swords, facebook | Galway, facebook | Kildare, Athy, facebook | Kildare, Celbridge, facebook | Kildare, Leixlip, facebook | Kildare, Naas, facebook | Kildare, Newbridge facebook | Kilkenny, facebook | Louth, Ardee facebook | Louth, Dundalk, facebook | Sligo, facebook | Wexford, New Ross facebook | Wexford, Gorey facebook | Wexford, Wexford Town, facebook | Wicklow, Bray, facebook | Wicklow, Greystones, facebook | Wicklow, Wicklow, facebook | Wicklow, Arklow, facebook
Statement from the Right2Water campaign:

Despite torrential rain, our expectations have been massively exceeded, with well over 150,000 people coming out in every neighbourhood, town and village to send a clear message to the Government: water is a human right, and we demand the abolition of domestic water charges.

Today showed the strength of public opposition to water charges in communities up and down the country. The time has come for the Government to accept the will of the people, abolish domestic water charges and return to the drawing board. Until they do, the Right2Water campaign will keep up the pressure.

"Details of a major rally outside the Dail on December 10th - International Human Rights Day - will be announced during the coming days"


Location of Water Charges Protests today:

Carlow Town, Cavan Town, Clare (Ennis & Shannon), Cork (Bandon, Clonakility, Cork City, Fermoy, Mallow, Youghal), Donegal (Ballyshannon, Letterkenny, Lifford), Dublin (Artane, Ballyfermot, Blanchardstown, Cabra(x2), Clondalkin, Coolock, Crumlin, Donaghmede/Kilbarrack, Donnybrook, Donnycarney, Drimnagh, Dun Laoghaire, Dundrum/Ballinteer, Finglas, Greenhills, Harolds Cross, Lucan, North Inner City, Pearse St, Phibsboro, Rialto, Ringsend, Stoneybatter, Tallaght, Walkinstown, York St, Swords), Galway City, Kerry Tralee, Kildare (Athy, Celbridge, Leixlip, Maynooth, Naas, Newbridge), Kilkenny, Laois (Portarlington, Laois County Hall) Letrim Carrick-on-Shannon, Limerick City x4, Longford, Louth (Drogheda, Dundalk), Meath (Navan, Kells, Ashbourne, Duleek), Mayo (Ballina, Castlebar), Monaghan Town, Offaly (Birr, Edenderry, Tullamore) Roscommon (Boyle, Roscommon Town), Sligo Town, Tipperary (Carrick-on-suir, Cashel, Nenagh, Roscrea, Tipperary Town), Waterford (Portlaw, Waterford City), Westmeath (Athlone, Mullingar), Wexford (Enniscorthy, Gorey, New Ross, Wexford Town), Wicklow (Blessington, Bray, Greystones, Wicklow Town, Arklow)
Here's a roundup of some of the numbers for local protests around the country:
Over 10,000 in 3 protests in Donegal -8,000 in Letterkenny, 4,000 in Ballyshannon
1,000 Lifford
4,000 Sligo
1,000 Carrick on Shannon in Leitrim.
3,000 Galway
2,500 Clare
3,000 Cavan
3,000 Navan
5,000 Waterford City
2,500 Wicklow
2,00 Greystones
2,000 in Ashbourne
2,000 in Newbridge
500 Maynooth
1,200 Longford
3,000 Mullingar
Over 40,000 throughout Dublin with over 10,000 assembling in O'Connell St.
4,000 Ballyfermot
4,000 Walkinstown
3,000 Clondalkin/Lucan
2,000 Tallaght
3,000 Dundrum
5,000 Swords
Over 400 marched to the to local FG offices in Bandon
10,000 in Cork
2,000 Fermoy
Over 400 marched to the to local FG offices in Bandon
1,000 Clonakilty
500 Mallow
500 Youghal
2,000 Fermoy
5,000 in various Limerick Suburbs for the 2nd Sat in a row.
9,000 Drogheda
2,000 Kilkenny
1,500 Gorey
2,000 Wexford Town
2,000 Tullamore
1,000 Tralee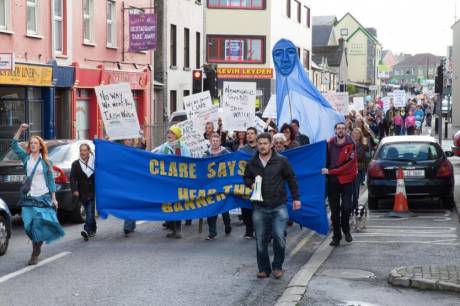 Ennis says no to water charges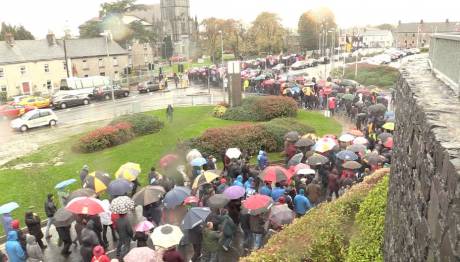 Kilkenny says no to Kenny's water charges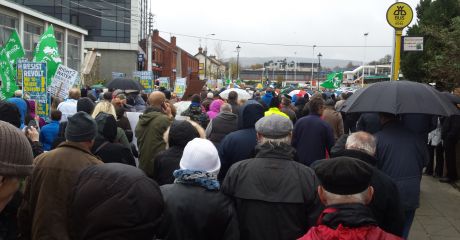 Dundrum says no to water charges