Jailings of Anti-Water Charges Protesters: A disgrace!

national | bin tax / household tax / water tax | feature

Friday February 20, 2015 16:34

by anti-austerity alliance
So how many bankers went to jail ? None! One Law for the Rich and One for the Rest of Us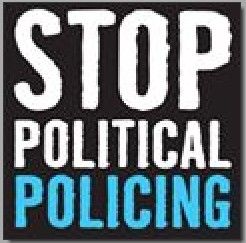 The Anti-Austerity Alliance has today condemned the jailing of anti-water meter protestors at the behest of Denis O'Brien's company GMC Sierra.

Anti-Austerity Alliance TD Paul Murphy said "The jailing of these protestors and the arrests in Tallaght is an attack on the right of communities to protest against the imposition of austerity measures, in this case the water charge and meters, which are being imposed by the government despite the massive opposition to them.
Related Links: Right2Water campaign shocked at jailing of water protesters| Stop poitical policing - Stop the arrests now! | Right to Plunder the Economy, Not Right to Protest | Free the Jobstown 4! - Socialist Party Press Release | Paul Murphy TD arrested on trumped up charges designed to discredit Anti-Water Charges campaign
The Anti-Austerity Alliance has today condemned the jailing of anti-water meter protestors at the behest of Denis O'Brien's company GMC Sierra.

Anti-Austerity Alliance TD Paul Murphy said "The jailing of these protestors and the arrests in Tallaght is an attack on the right of communities to protest against the imposition of austerity measures, in this case the water charge and meters, which are being imposed by the government despite the massive opposition to them.

"The court has jailed these protestors at the behest of the Denis O'Brien owned GMC Sierra so that they can continue to try to impose water meters on communities which have risen up in peaceful protest against their installation. Once again, the courts have been used to attack the right of people to engage in peaceful protest.

"The attacks from the state on the campaign against water charges needs to be met with a significant response by the campaign and communities, the protest which has been organised against political policing following the Jobstown arrests on Saturday can be a response in opposition to these attacks."

AAA councillor Michael O'Brien is a councillor for the area and is involved in the protests said: "This is a disgraceful attack on the right of a community to defend itself through mass peaceful protests against the imposition of austerity.

"The protests have been met with organised violence from the state through the Gardaí. The Gardaí have acted as bully boys on behalf of the government and GMC Sierra through physical attacks and harassment of those who have engaged in the protests.

"These jailings will not deter people from protesting against the installation of water meters and will be met with a firm response by the communities and the anti-water charges movement."