Justice for Irish Farmers as Fox Hunter fined for brutal assault!

international | crime and justice | press release

Wednesday March 16, 2016 17:37

by Ban Fox Hunting in Ireland
Foxhunt supporter fined €2,250 Euro for the brutal and unprovoked assault of two landowners who had banned hunting on their lands
John O'Reilly (48), of Rathielty, Rathmoyle, Co Kilkenny, was fined at Kilkenny District Court on Friday March 15th €2,250 for assaulting brothers, Hubert and Norman Daniels.

The two farmers had been carrying out with a digger on a road close to their farm at Rathielty, County Kilkenny, on November 5, 2013, when the culprit came swaggering up the road wielding a shovel.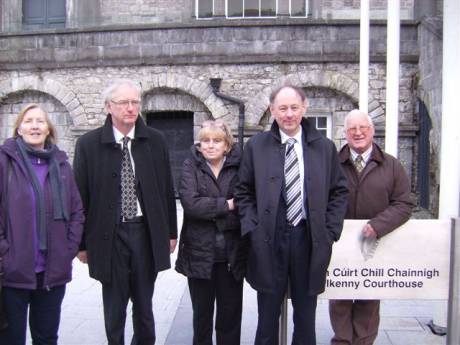 Outside Kilkenny District after the case: Mona Ward, Hubert Daniels, Aideen Yourell, Norman Daniels, and Philip Lynch
The well known fox hunting supporter then assaulted the two men, who had banned all foxhunting on their lands and been subjected to a prolonged intimidation by foxhunters for the past eight years as a result.

Norman Daniels suffered a serious injury for which he is still receiving medical treatment. Unknown to the assailant a camcorder that one of the farmers had been using was still running and recording. It recorded the entire incident and the resulting footage, which was very clear, played a vital role in the court case.

A Victim Impact Statement on behalf Norman Daniels was presented to Judge Daly. It read as follows:
"…The incident of 5 November has completely changed my life. Prior to that afternoon I was a healthy fit man.

I have been farming all my working life. I can no longer do manual labour work on the farm, due to the handicap in my wrist.

I applied to the Injuries Board for compensation for my injuries to my wrist caused by the defendant John O Reilly. He refused to allow the Injuries Board assess the damage and the Board informed me of this on 8 October 2014.

The extreme physical pain associated with my injuries and the stress and trauma I suffer is devastating.

Because of this assault I underwent a life threatening surgical operation under full anaesthetic in Waterford Regional Hospital, where a metal plate and eight screws had to be implanted into my wrist to hold and keep the broken bones in place.

I cannot rest. I have continual flashbacks to the day of the assault when foxhunter John O' Reilly struck me a single blow punch from behind with force which knocked me to the ground at speed, breaking my right wrist...the hand I used to make my living on the farm.

I must now face the rest of my life with this handicap…"
The video footage showing the assault was posted online after Mr. O' Reilly's guilty plea in a previous hearing in January. It went viral. On one Faceback page alone (The "Stop the Cull" page) the cowardly assault by the fox hunt supporter has been viewed more than 130,000 times, an astonishing level of interest. It's the video second from left under "all videos":

The footage has also been posted to YouTube and can be seen here:
https://www.youtube.com/watch?v=9vZf4-MvrMs

There was a dramatic scene in the courtroom just before Judge Daly imposed sentence. Philip Lynch, Chairman of Farmers Against Fox Hunting and Trespass (FAFT), sought permission to address the court about the wider issue of landowners throughout Ireland being harassed and subjected to violence by fox hunts. He was denied permission and then, when he continued to speak, police were directed to remove him from the court.

When the case concluded, Mr. Lynch was applauded by members of the public for his principled stance against fox hunting and hunt orchestrated bullying. He said: "I'm glad the Daniels brothers have been vindicated though in my view the sentence should have been much harsher. A message needs to go loud and clear that it is no longer acceptable for fox hunts to encroach on farmer's property.

"Every hunt season these rural vandals ride roughshod over the rights of landowners and wreak absolute havoc. They knock fences, rip up fields of crops, scatter herds of sheep and cattle, cause abortions in sheep, and attack farm family pets in full view of terrified children. They are an absolute menace.

"And then, farmers who deny them permission to hunt on their lands routinely get rough treatment. The hunts use heavies to lean on these farmers, availing of any intimidating tactic they can think of. I hope the example of Norman and Hubert Daniels, and their brave decision to stand up to the fox hunters; will inspire landowners all over Ireland to stand up for their livelihoods and show the Red Card to fox hunts!"