Dublin - Event Notice
Thursday January 01 1970
RSF Dublin Easter 2018 events.

dublin | history and heritage | event notice

Wednesday March 21, 2018 15:31

by Sharon. - Individual.
Three RSF events will take place in Dublin this Easter weekend.
O'Connell Street, Crumlin and Deansgrange.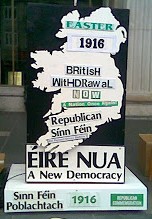 RSF main Dublin commemoration will be held on Easter Monday , 2nd April 2018, at 2pm, in O'Connell Street.
Hi!

The main RSF Easter Commemoration in Dublin will be held on Easter Monday, 2nd April 2018 : we will be assembling at the Garden of Remembrance at 1.45pm and marching from there to the GPO in O'Connell Street, arriving there at about 2pm.
But, if you can't get to that one, then, on Easter Sunday in Dublin, a wreath will be laid and the 1916 Proclamation will be read at the Éamonn Ceannt monument in the public park named in his honour in Crumlin at 12 noon and a commemoration will be held in Deansgrange Cemetery (which was established in 1861 and had its first burial in 1865) that same day at the republican plot, at 1pm. Details of the other republican tributes, from Donegal to Cork to New York, can be found at the 'Related Link', below.

Thanks for reading,
Sharon.