Ireland, Donegal and development

donegal | environment | opinion/analysis

Monday March 15, 2004 12:16

by C. Price
A Canadian visitor reflects
Before coming to Ireland, I was warned not to have any romantic notions about the 'Emerald Isle'. My Irish friend had travelled to my home country of Canada and was aware that many Canadians, especially those of Irish ancestry, have notions of Ireland that are based on commercial hype about leprechauns and beer and on the nostalgic laments of The Chieftains and the Irish Tenors about rolling hills and a glorious past. He cautioned that Ireland was changing and that the nation is manifesting the most unfortunate symptoms of economic success. I shrugged off the warning because my hopes for Ireland went much further than commercial stereotypes and, admittedly, because I really wanted to believe. After all, I endured eighteen years in a North American suburb.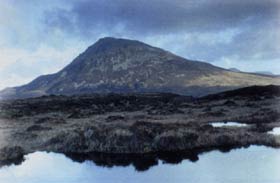 As I drove up to Co. Donegal from Shannon airport, I was thrilled as I looked out over the breathtaking coast, the rolling hills and thatched-roof cottages. I knew I would not be disappointed. Then I drove towards Bundoran, or 'Fundoran' as the many revellers often call it. My heart sank as I bore witness to the destructive spread of 'cookie-cutter' housing and saw ominous signs of a town sacrificing its history, culture and sense of community to profit from the seasonal whims of wealthy city dwellers. I saw a similar phenomenon in many spectacular places in the north of Ireland from Bundoran, to Dunfanaghy, PortRush to Newry.

Despite living twenty minutes from the most multicultural city in the world, I was raised in a cultural vacuum. When you are a teenager - old enough to be restless yet too young to drive - the suburbs are suffocating. Most of my friends were 'mall rats'. They were sent to the mall or the cinema to allow 'corporate America' to baby-sit for a few hours after school. From this impressionable age, teens are tempted by the useless junk flashed at them from shop windows and taught to gage their worth by what they wear and what they own. Fortunately, my mother disapproved of this past time and I wasn't allowed to hang out at the mall. Yet, while my area of the suburbs wasn't as void as most (we lived close to a lake and until recently, developers had recognized the value of preserving our large trees), in-climate weather meant the alternative was usually hours in front of the T.V.

As a result, I have always clung to the stories of my ancestors about the magic of rolling hills, thatched roof cottages and fairy trees. I grew up desperate to experience the tight knit communities and vibrant culture that every Irish pub and St. Paddy's Day celebration around the world attempt to emulate. Stronger still, was my fascination with the passion of a people who care so strongly about their history and culture that eighth generation North Americans still claim to be Irish.

I can only hope that you, the residents of arguably the loveliest county in Ireland, recognize that our path of development is culturally toxic. Suburbs that evolve around a city or tourist centre are notoriously alienating, dehumanizing, and disconnected. Rapid development does seem economically advantageous in the short run. However, if Irish citizens abandon their culture and sacrifice coastal towns and rural communities, they risk loosing the most valuable tourist attraction and diminish their quality of life. Suburban houses are built with the intention of maximizing time, money and space. They all look the same, are too close together, and are not sensitive to the environment or the culture of the area. They suppress the complex values involved in the concept of 'home' and traditionally expressed in our towns and naturally expanding communities.

Most suburban-Canadians know absolutely nothing about the history of their towns, not to mention their country. Our surroundings reflect nothing about our culture or our past. Without a sense of past, suburbs generate little hope for the future. They are characterised by 'commuter' oriented development that embraces offensive motorways, fast food joints and large chain stores owned and operated by people in other cities or other countries. Local shops with local produce will be forced to close and people will lose their ability to create and advance by simply becoming employed by larger corporations.

Aesthetically offensive housing on the waterfront will be largely occupied by city dwellers from Belfast who have no vested interest in the welfare of the community and whose local involvement does not extend beyond the holiday season.






Equally as damaging is when a community allows in big businesses and becomes focused on growth, they sacrifice the quality of local governance. Government 'representatives' become accountable only to business leaders who are not even from the community and have little concern for the history or local interests. This has already become a concern in Donegal when residents are powerless to stop construction of the motorway which will destroy their fields and disturb their peaceful homes.

Perhaps, as a foreigner, I have no right to comment on the nature of Ireland's development. For years I took advantage of the convenience and excess of enormous malls, fast food joints and 24 screen movie cinemas. Maybe it is arrogant to lecture others about striving for the same. However, North Americans are in the unfortunate position of having made the mistakes that the rest of the world can learn from. I write this warning out of a sincere love for the beauty and uniqueness of Ireland.

In the six months that I have lived in Ireland; the people, culture and country have surpassed my expectations. I can only hope that the Irish will pay attention, get involved and continue to value and protect their amazing island.