Red Branch 'Knights' Fight For The Future Of The Black Pig's Dyke

cavan | history and heritage | feature

Wednesday September 22, 2004 21:27

by Michael Lynch - Red Branch Heritage

redbranch at oceanfree dot net
Heritage Report Recommends Cavan Quarry Closure
Cavan Heritage group, Red Branch Heritage have recently released a heritage report on important archeological sites in a catchment area located in a central area of County Cavan. Cavan County Manager Mr. Jack Keyes received the first copy on Weds 22nd September.
John O'Reilly, chairman of the group, stated that the fifteen-page document has been released in a determined effort to bring forward the important issue of the protection, or lack thereof, being given to archaeological sites in the greater Denn area. The report was compiled by the group over a number of weeks and specifically targeted four sites for special attention. Among these is the Black Pig's Dyke linear earthworks at Ardkill More Mountain, Carrickaboy - a monument believed to be up to two thousand years old, which has already being damaged by an adjoining quarry. Recently removal of topsoil by the quarry company from a newly acquired area of the mountain has taken place without planning approval from Cavan County Council. According to the report considerable damage has already being caused to the local landscape.
In its summing up the report states: "the quarry site has now become a real eyesore and this extension must not be allowed to continue and the area of this latest unauthorised work should be re-landscaped with soil in order to bring about a renewal of growth. It is time to have a serious look at the long-term future of quarrying at Ardkill More. It is quite clear this site is totally unsuitable for quarrying with regard to its elevated location and the fact that an important archeological site lies in its immediate vicinity. The quarry owners might be encouraged to consider sourcing a more suitable quarry site and phasing out their operations at Ardkill More"
Red Branch Heritage secretary Susan Hayes stated that a winding down of the quarrying operation was the only solution to the problems at Ardkill Mountain. While admitting this would cause problems for the company involved in the short term, Miss Hayes said it was the only solution that would guarantee the lasting protection of this national monument.
"How could any surveyor view the landscape even as it stands today and say the quarry was not interfering with the character of the local landscape - it's a total disaster even as things stand and we still haven't even received a guarantee that the surviving stretch of earthworks will not suffer a similar fate to the two hundred yards destroyed in the past."
However Susan Hayes welcomed the recent statement by Cavan County Manager, Mr. Jack Keyes regarding the setting up of a Heritage Forum by Cavan County Council, as a positive step and hoped it would lead to a greater appreciation of Cavan's rich heritage resource and a much greater effort to have that resource protected.
The Neolithic and Bronze age complex at Banagher just over a mile from Ardkill More greatly impressed the survey group, which included Claire Dunleavy who has a special knowledge of such ancient sites. Claire said it was immediately obvious within minutes of arriving on this hilltop site that it was an important burial and ritual area. "This seems to be a site, which originally contained at least one Neolithic passage tomb and later during the Bronze Age period became an important ritual area as evidenced by the presence of a henge and two stone circles as well as two barrows which are Bronze Age burial sites," concluded Miss Dunleavy.
Sites at Carrickaboy Glebe and Corrawillen, Lavey also come in for special mention in the report.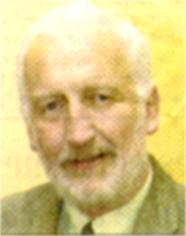 Cavan County Manager, Jack Keyes.