Last-ditch effort for Adefowoju family

antrim | rights, freedoms and repression | news report

Monday January 21, 2008 16:17

by Ciarán Ó Brolcháin
Friends and supporters of Comfort Adefowoju and her family staged a vigil outside Belfast City Hall at lunchtime today in a last-ditch effort to have the British Home Office overturn its decision to deport them to Nigeria.
The Adefowoju family was due to be deported today but a clerical error meant that they weren't processed properly for their flight. They continue to be held in a detention centre in England while they await their fate.

Speaking at the vigil today, Fionola Meredith thanked everyone who had turned out despite the rain and reiterated that she could not return to Nigeria because her life would be at risk and that she and her young family had become part of the community in Belfast. Reverend Johnston Lambe of Mountpottinger Presbyterian Church then spoke of the cross-party and cross-community support for the Adefowoju family in their struggle to return to Belfast. He was followed by Bairbre de Brún of Sinn Féin who described as a disgrace the way in which Comfort and her family were snatched by immigration officials in the dead of night and imprisoned. Naomi Long of the Alliance Party was the final speaker who again thanked everyone for turning out and happy resolution could come out of this terrible story.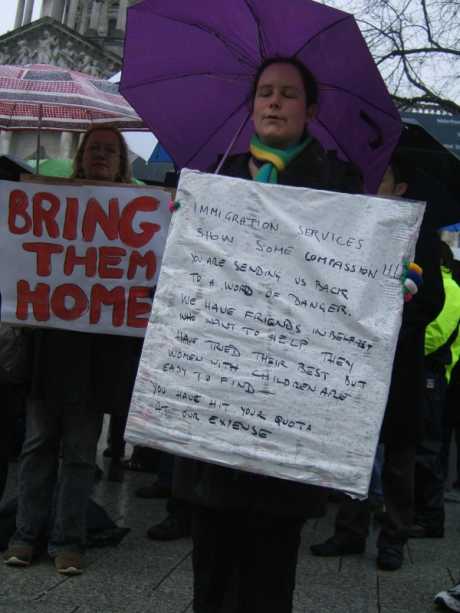 Letter to the Immigration Services