Audio: A history of pro-choice struggles in Ireland

national | rights, freedoms and repression | opinion/analysis

Tuesday April 28, 2009 17:08

by Hilary, Mary, Andrew, Sinead - various (editing/publishing Andrew, WSM, personal capacity)
Three speakers talk about the pro-choice struggles in Ireland they were involved in over the last three decades. These include the 1983 anti-referendum campaign, the Womens' Information Network, the SPUC v students case, Dublin Abortion Information Campaign, X-Case, Repeal 8th Amendment, 1992 Referendum, Dublin Abortion Rights Group, Alliance for a No Vote, 1998 referendum, Choice Ireland and the D-Case.
The audio was recorded at a meeting of the Maynooth Sociology Society, April 2009. It is one hour in length. I'll be posting some of the Q&A that followed the presentations tomorrow as a comment to this thread.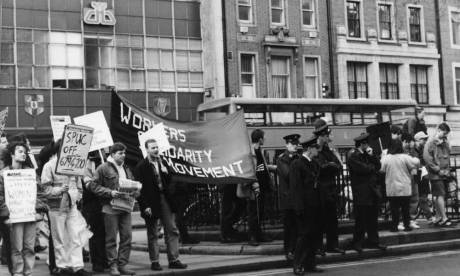 Counter demo to YD anti-women march - 1992?


Three speakers on Pro-Choice Struggles in Ireland
25.89 Mb