Death of Bob Bickerdike at 89

cork | miscellaneous | news report

Sunday June 14, 2009 10:42

by John Jefferies
The death occurred on Friday night at his home in Youghal, Co. Cork of veteran peace campaigner and socialist activist Bob Bickerdike at the age of 89 years.

Regular Indymedia readers will recall that Bob featured here after receiving the "Working Class Hero 2009" award from the Cork May Day committee last month in recognition of his many decades of struggle on behalf of and with working people and his lifetime involvement in the peace movement.
To quote from Ray Hanrahan's report in Indymedia from the 2009 May Day events in Cork:-

"Bob was born in Co. Leitrim nearly 90 years ago and his early experiences during 'the hungry thirties' and his early working years as a circus entertainer convinced him of the necessity and desirability of a socialist revolution for humankind. He spent a portion of his adult years as an emigrant in Britain where, as a working man and trade unionist he was involved directly in many workplace struggles, and where his lifelong passion for opposition to war, nuclear weapons and imperialism was given focus and space for action. He settled in Youghal in the 1970s and there raised a family and re-connected with socialist activity in Ireland. As a stalwart attendee of anti-war events and marches at Shannon until quite recently, he has been a beacon of inspiration for many activists in Cork city and county, and it was a privilege to share his company and to attest to his continuing burning desire for a better tomorrow for us all. Salud Bob!"

Bob was a leading figure locally and nationally in the National Association of Tenants Organisations (the other NATO!) and for many years travelled the country

Bob was very frail when he received his presentation and the "Working Class Hero" title. He was very proud of it but as always was truly modest about his own role in the long struggle to build a better life for people. He stood for election to Youghal Urban District Council on a number of occasions and was an elected town councillor during the 1980s. He was totally opposed to the double taxation of service charges and played an active part in that campaign. As a result of this Bob was jailed by his own town council when he was almost 70 years of age but refused to be bullied by officialdom.

I'm sure many people will want to record here their own memories of Bob but mine is of him sitting in the rough grass beside the apron of Shannon Airport as he refused to get up at the order of a garda who had a large German Shepherd straining at the leash during one of the many protests against the presence of US military and CIA aircraft and personnel and the violation of Irish neutrality in which Bob was a fervent believer.

As I write I have no details of Bob's funeral arrangements but as soon as I get this information I will post it online below.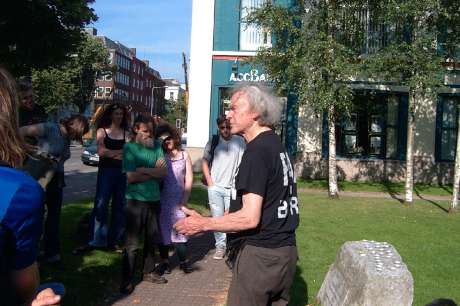 Bob speaks at the Cork Hiroshima Day vigil in 2004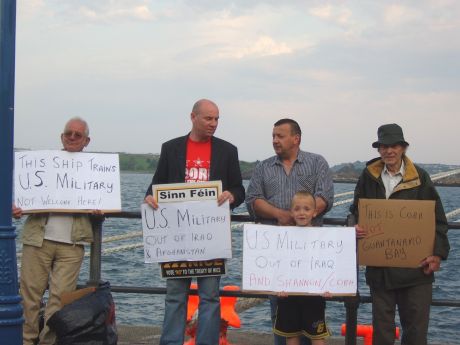 Bob Bickerdike (right) protests against US warships in Cobh 2006