Antrim - Event Notice
Thursday January 01 1970
Just Books Fundraiser

antrim | miscellaneous | event notice

Sunday October 24, 2010 21:50

by Gan ainm - none
Belfast Thursday night
Just Books, fundraiser, Thursday night
From LIBCOM

Just Books new venue fundraiser & new Leveller winter issue (now in colour!) launch party.

Just Books would be very happy if you would decide to come along and listen to some very, very good music on Thursday 28th October and help us to raise funds for our new premises.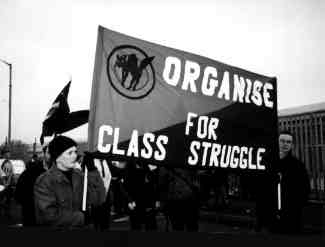 Ciaran Murphy
Belfast-based singer-songwriter
Ciaran is a guitar strumming political folk/punk artist whose musical influences range from The Clash, the Exploited, The Pogues and Damien Demspey. He has previously played for Just Books, Anti-Fascist Action and the Say No to Lisbon Campaign, and has recorded & released two studio albums.
A very talented young chap, then.
www.facebook.com/Ciaranmurphymusic
www.shamrocksuperstore.net/ciaran

Kev Jones
The Lobotomies/Bomb City Seven
Local anarcho-punk/hip-hop/hardcore musician and general reprobate Kev Jones will be turning down the amp and going all acoustic for the evening. In his many musical guises he has toured the UK and Europe purveying fine noise to anyone who wants to listen. Heís really very good, and donít
let the fact that heís ginger put you off.
http://www.myspace.com/thelobotomies
http://www.myspace.com/bombcity7
http://www.myspace.com/silenceconvicts

Gerry Jones
Re-knowned local trad musician and folk singer, 35 years on the go. And he's Kev's da - if we're lucky they'll sing a duet.

After all that lovely music youíll probably want some more, so weíre gonna throw in a ska DJ too. Arenít we nice. As well as that thereíll be a raffle with some feckin great prizes and ample opportunity to get your hands on the brand new (nearly) full colour issue of the Leveller and other such merchandise. All that for a fiver.

The Monaco Bar
(Back bar)
17 Lombard Street
Belfast
Doors 8pm til late
(First Act 8.30pm)
Door tax £5
.