Come celebrate a decade of resistance to Shell

mayo | miscellaneous | press release

Tuesday May 24, 2011 17:42

by party against the pipe

partyagainstthepipe at gmail dot com

aughoose, ballina, co. mayo

0851141170
If anywhere's going to be Ireland's Tahir, it's here!
Come join us for the June Bank Holiday weekend & celebrate a decade of resistance to Shell's Corrib gas project…it's going to be a good family friendly party! You've seen The Pipe now come & see this incredible place for yourself. If this is your first time down to Mayo, we warmly welcome you. This event is open to all supporters of the Shell to Sea campaign.

Bands, music, circus, dance, comedy, performance, crafts, kid's activities. Free camping.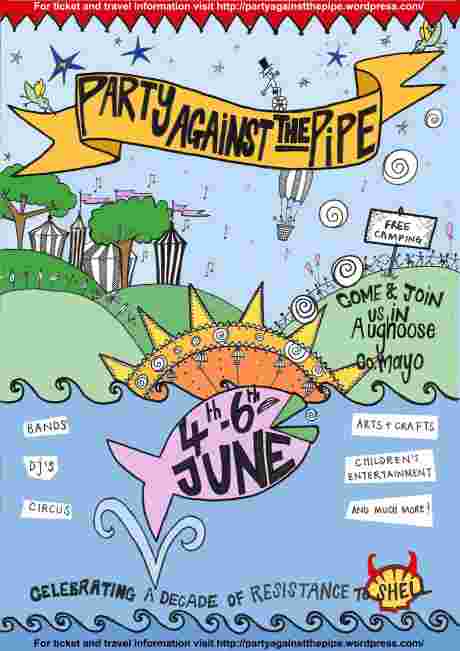 EXTRAORDINARY FESTIVAL TO MARK A DECADE OF STRUGGLE AGAINST SHELL

Party Against The Pipe
4th-6th June 2011
Aughoose, Co Mayo

Scores of musical acts and performers are heading to the shores of Broadhaven Bay in north Mayo this June bank holiday weekend for an extraordinary three-day festival. The 'Party Against The Pipe' will feature an eclectic mix of music, circus performance, art, children's activities and free camping, celebrating a remarkable decade of resistance to Shell.

The local community is inviting people from around Ireland and abroad to help them mark ten inspiring years of struggle against Shell's experimental inland refinery and high pressure pipeline. The festival takes place from 4th to 6th June at Aughoose, Co Mayo, on the proposed route of the Corrib Gas pipeline, close to Rossport.

More than 35 acts have already been confirmed, with headliners including Ireland's premier punk-poet, Jinx Lennon; Belfast reggae sensation, the Explosion Sound System; Mark Black; Wicker Bones; Empire Saints and Gypsy Rebel Rabble. With several marquees already set up at the stunning Aughoose location, there will also be DJ sets, a Céilí House and an 'open mic' Acoustic Tent.

Complementing the music will be a cinema tent, art installations, circus workshops, storytelling, a children's area, puppetry, poetry and craft stalls. New visitors can take a free 'Walk the Pipe' tour and hear updates about the campaign.

Party Against The Pipe is a family-friendly, not-for-profit event, with a suggested donation of just €20 euro and free camping. Delicious hot food will be served all weekend. People can bring their own beverages.

One of the organisers, Nancy Serrano, said: "Thanks to an amazing response from musicians and performers, Party Against The Pipe will have an exciting range of acts: from trad to punk, dance to reggae. Thousands of people around Ireland and further afield have supported the campaign and this event is a way of giving thanks to the courage and commitment shown by the local community."

Local resident Maura Harrington said: "This festival will be about celebrating the resistance of this amazing local community and all those who support the campaign. We'll be here for another decade if that's what it takes. As An Bord Pleanala's senior inspector said in 2002, this is the wrong project in the wrong location."

"Local residents have been campaigning for more than ten years now to safeguard the health, safety and integrity of this special place and to highlight the continued giveaway of our natural resources at a time of critical need for Ireland," she said. "There has been a surge in interest in the issue following the success of Risteard Ó Domhnaill's award-winning documentary, The Pipe, which brought this David and Goliath struggle to international attention."

"Party Against The Pipe will be a great opportunity for visitors to enjoy this remote and rugged landscape, to meet the local people and to see for themselves what will be at stake if Shell are allowed to continue with this appalling experiment."