Interview of Dr. Marcus De Brun who resigned from the Irish Medical Council over Govt mismanagement of Covid-19
national | health / disability issues | news report
Thursday September 10, 2020 20:49
by 1 of indy
Now threatened by the Medical Council for speaking out
As reported back in April, Dr Marcus De Brun a GP from Dublin, who resigned from the Irish Medical Council over the mismanagement of Covid-19, was interviewed by Broadsheet. Because of his views, he has been silenced by the mainstream. His crime is that he has dared to criticize the Covid narrative. The 2nd crime is that he has a backbone and principles unlike most of the medical profession.
Macrus De Brun was inteviewed recently on the BroadSheet.ie channel Answer a Broadsheet Reader
Here is my most recent interview with Broadsheet. Interview opportunities are scarce due to politics and fear. However I will continue to speak out for as long as I can. Please contact your media provider and ask them to give the 'other side' a voice.
Youtube link:
In addition he recently tweeted on Sept 9th that:
Please don't tell me that we live in a democracy! I am now under the shadow of a Medical Council Inquiry, for my appearance at a rally where I called for an investigation into Nursing Home Deaths, and a voice for the Dail's own Covid-19 Committee on masks.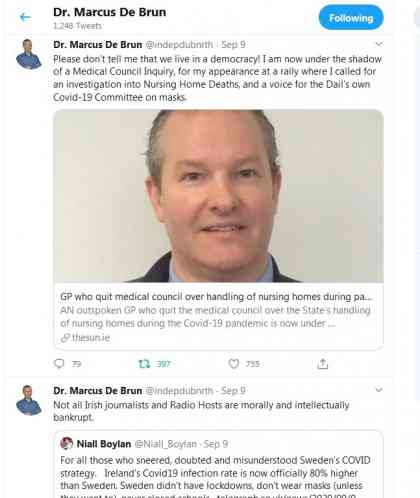 Marcus De Brun can be found on Twitter.com under the handle
@indepdubnrth
https://twitter.com/indepdubnrth
See also earlier report on his resignation
Irish Doctor resigns from Medical Council after criticising mismanagement of Covid-19
https://www.indymedia.ie/article/107411
Inteview audio. Format of interview is from a list of questions from readers of broadsheet and answered by Dr De Brun 9.61 Mb